Everything I'm able to share, memorabilia wise, is made possible through the many connections I have made with my Chieftain friends. One day I was chatting with Dave Dempster, '76, and out of the blue he asked if I would like to put the entire catalog of KGB Homegrown albums on my yearbook website.
It turned out that his brother, Steve Dempster, '77, had digitally recorded all of the albums onto an mp3 format, and in the mail I not only score a fabulous memory card of San Diego themed songs, but I managed to talk Steve into lending me his '77 Calumet.
And then one day I heard from former 102.1 KPRi Homegrown Hour host, Cathryn Beeks, who has an online radio show in paradise http://listenlocalradio.com/ and she was blown away by the appearance of all eight Homegrown albums on my little yearbook website.
Cathryn went on to share with her listeners, "Check THIS out. While searching for photos for my Homegrown Hour scrapbook I stumbled on this little beauty. All 8 of the Homegrown albums (from 73 to 83) were digitally converted by Steven Dempster CHS class of '78 and his brother Dave (class of '76) and posted by Erik Jacobsen, CHS Class of 1975, and the admin of "Clairemont High Calumet Yearbooks". Ohhhh the memories! Thanks guys!" Here's a link to Cathryn's post
Homegrown 1973

Mission Beach Boogie

Bud Lang

2:08

Dago From Diego

Country Dick and City Slick

3:03

Encanto Rag

Bootleg

2:05

Funky Santee

Hebadia Blues Band

4:16

South Bay

Silver Tooth And Wolf

3:15

Spring Valley Sally

Montezuma's Revenge

2:09

Chula Vista

Rose and the Arrangement

3:04

Clairemont Mesa

Gary Hyde and Spangles

3:27

(Fly In My Soup) Back To El Cajon Blvd

Steve Black

2:18

City Limit Blues

Mike Hansen and Brad Ramsey

2:44

La Jolla Sunset

Ron Mayer and Gary Mercado

3:07

So Long San Diego

Island

3:14
Homegrown II 1974

Soledad Cross

Crockett

3:00

Black's Beach

Island

2:21

Springtime In Laguna

Ron Mayer and Gary Mercado

3:40

Lemon Grove

Allen Linrvedt and the 60/40 Band

2:41

The Last One In La Jolla

Gary Hyde

3:40

Lakeside Lady

Ravenloft

3:46

Where Is San Diego

Listen

3:31

Two Years Before The Mast

Reef Cody

2:36

Jamul Highway

Aragon

2:07

Out Of Town Song

Mark Neynaber and Larry Clark

2:18

Going Back To Clairemont

Carey Fox

3:22

Itchy Feet

Peter Filacio

4:11
Homegrown III 1975

Song For Everybody

Ron Mayer

2:30

San Diego Dance

People Movers

3:01

Summer Again

Rusty Jones

1:46

Gypsies From Bonsall

The Weirs

3:03

Mission Bay

Mutt

3:20

S.D.S.U. Blues

Barry Fox

1:34

O. B. Bop

Carey Fox

3:41

For The Rest Of My Life

Sierra Band

2:16

San Diego (You're My Home)

Punk

3:12

Zoo Song

Horsefeathers

2:19

Final Stand

Steven Shipps

3:04

City Of Love

Listen

3:32
Homegrown IV 1976

Singing Celebration

Don Auten

3:57

Singing My Way To San Diego

Bill Kaplan

2:30

Leucadia

Diana Monzeglio and Sara Ecke

3:09

The Alonzo F Horton Memorial Rag

Hunt'n Peck

2:04

Toll Bridge Refugee

Island

2:21

Light Of The City

John Slowiczek, Ron Satterfield and Jan Tober

3:47

Never Walk Away

Listen

4:28

I Can See The Point

Pete Filacio and the Fantasy Band

3:54

Sunnyside Sadie

James Francis Lamont

2:26

Logan Avenue Blues

Ted Picou and Good News

3:37

Logan Heights

Pillars of Society

2:22

Rollin' Home

Southbound

3:47
Homegrown V 1977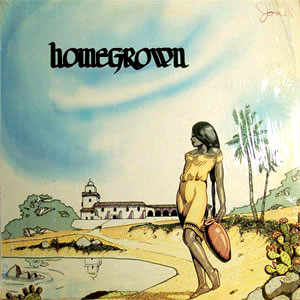 My Home In La Jolla

Steve Shepherd

2:49

Can't Go Back To Cardiff

Gary Hyde, Marc Intravaia and Tom Boyd

4:34

The Queen Of Rancho Sante Fe

Blue Wind

3:29

Earthquake

Blue Wind

4:11

Forever Flying

Mojave

3:14

The City In Motion

Rick Telli

3:09

Pretty Senorita

The Bowen Jenkins Band

3:17

Spring Valley Lady

Valerie Foremost

2:57

North County Breakdown

Squatter's Last Rites

4:43

A Bagful Of Avacados And A Bottle Full Of Wine

Gary Naramore and Friends

3:08

Encinitas Ain't Cheap No More

Ash Underwood and Myrtie Diesel

3:30

El Cajon Unemployment Blues

Eazy

3:01

San Diego Smiles

Brad Cahil

4:32
Homegrown VI 1978

Intro/The KGB Chicken

Garry Narramore and the KGB Chicken

3:37

This Boulevard

Bowen-Jenkins Band

2:58

Jazz In La Jolla

Tim Dicker and Our In-House Jazz Band

3:33

On The Wind Of Torrey Pines

Melissa McCracken

3:03

Neath The Vista Sky

Friends

3:44

Good To Me

Smith-Hubbard and Associates

3:02

Stones Throw From Mexico

Line Drive

3:51

Loose In The County - Wild In The Road

Ash

4:00

San Diego County Blues

Kim Gage and Our In-House Blues Band

3:17

Full Moon On Bacon Street

Hoodlum Priest

2:42

East San Diego

Ronny Ruff and the Respectables

3:29

Just South Of Mission Bay

Dan Crowell and the Getaway

3:26
Homegrown VII 1979

On San Diego's Shore

CJ Hutton

3:36

Soledad Mountain

Rusty Jones and Hoodlum Priest

2:59

Blown Away

James-Bruce Band

4:14

Why Did You Go

Bonnie and Clyde

4:04

Take Me Away

Ronnie Ruff and the Respectables

3:14

5th And Bop

The Penetrators

1:55

Tribute To The Old Globe

Thanxs

3:07

Lovin' Friends

Steven Vaus

4:09

Native Stranger

Maudie K. and the Converts

2:32

Borrego

Foxworthy and the Roaring Lyon Band

3:32

Julian

Melissa McCracken

2:26

Two More Pitchers To Go

Ash Underwood and Mryle Diesel

3:33
Homegrown VIII 1983

You'll Be Sorry

Blitz Brothers

2:55

Dangerous

Four Eyes

3:18

Cannonball

Moving Targets

3:57

Don't Panic

Frank Grubbs

2:48

You Lost A Gold Mine

Beat Farmers

2:51

Lost Boy

Dirk Debonaire

2:45

Victim

Victim

2:37

Saturday At 3:00 PM

Darius and the Magnets

3:19

The Boys Go Home

Marty Eldridge

3:37

Spend The Night With Mary

CJ Hutton

3:05

Rapid World

Average Citizen

3:06

Fried Chicken

Modern Rhythm

3:19